Features of the Online Helmet Designer
Let's see the main functions and options
Features of the Online Helmet Designer,
in short 
Online visual editor with realistic effects
Your clients will be able to pick a template & edit it in an online editor, real time.
Database with editable templates
20 helmet templates, more than 240.000+ variations, realistic 3D-like effects.
Set up on a new domain you choose
Domain registration, hosting, installing of the database – we take care of everything.
Restrict access only to your paying clients
Determine which of your clients can have access (and for how long) to the database.
Keep 100% of the income you make
Set prices for painting & membership plan(s), then keep all your income – no commission fee!
Optional modules available to expand functionality of your site
Module #1 addon
Your clients might want to fine tune their choosen design. Offer 3D visualisation & revisions to make sure they are fully satisfied.
Module #2 addon
Expand the database with exclusive templates designed only for your site & offer "buy out" option
Module #3 addon
GDPR-ready website with Privacy Policy and Terms & Conditions documents uploaded to your site
How can you get on board and start using the service?
The Online Helmet Designer is a subscribtion based service.
There is a yearly Licence fee and a 3 / 6 / 12 months subscribtion plan.
Yearly Licence fee for the Online Helmet Designer (OHD)
Licence fee is valid for 12 months time from the day of your purchase. It allows you to have OHD framework installed on your site. Licence fee is required for a live website (& database).
3 / 6 / 12 months subscribtion plan to fill your site with database(s)
You can choose 3, 6 or 12 months time subscribtion plan that will install & provide the 20 editable templates and page contents on your site.
Now let's see the details!
1. Online Helmet Designer &
the Basic Database
This is a shared database: the same designs are installed on every new subscriber's site
(check
Module #2 addon

for exlcusive designs & Premium Database)
Number of editable designs
Number of editable sections for each design (at least)
Number of colour options for each section
Number of variations per design (at least)
Realistic, 2D side view preview, visual changes in real time
You set your painting prices for each design or even colour
Full face ARAI template used as base helmet
Preview of the editor in action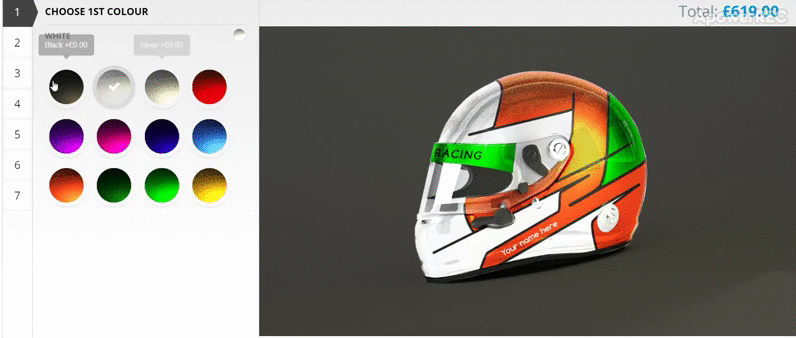 2. Accessing the database
Choose your new domain
Pick a domain name for your new website where the Online Helmet Designer will be installed. We provide both domain registration and hosting servicces for you.
With your brand image
Only your logo will appear on your site. No "Online Helmet Designer" or any other logo are added. Your site will be 100% ad-free!
4 pre-designed page templates
Your website will contain the following pages: Home page, How to use the editor page, Database page and Contact page (with your contact details of course).
Important GDPR regulations
Site is not GDPR ready: will not contain Privacy Policy & Terms and conditions documents. Please check MODULE #3 addon to comply with GDPR rules.
Website is responsive – your clients will be able to access it from PC, tablet and mobile as well!
3. Restricting access to the database
Database page is password protected
Your clients will need to buy a Membership Plan to access the database(s). Or you can also offer it for free if you wish.
You determine price for your own clients
Set the price of the Membership Plans for your own clients.
Expiring membership plans - recurring income
You can decide the validity of the plan if it will expire in 1 week, 1 month etc. Sell new Plan each time.
4. Keep 100% of your income from the site
Pay only the annual & monthly fee, nothing more!
100% of the income is yours
Set your prices for painting each template. Set your prices for Membership Plan(s). All income you earn is yours, NO COMMISSION FEE!
Collect money with PayPal
Your clients will be able to pay on your new site with PayPal – directly to your PayPal account. Once again, NO COMMISSION FEE!
Invoicing is in your hands as well
As your clients will pay directly to you – no middle man – you can handle your invoicing as you wish.
Definitely worth to check

Module #1 

and 

Module #2

 

addon,
which will greatly improve your income options from the site!
Expand your Online Helmet Designer with 3D Visualisation and fine tuning services
3D Visualisation service
Basically the Online Helmet Designer provides 2D side view preview. Offer the opportunity to your clients to see their choosen, customised design in a realistic 3D studio.
The request will be sent to us, and we will provide you the 3D renders with your logo added – then you can send it to your client.
Fine tuning service
If your client would want to fine tune their customised design, let us help. Their request will be sent to us and once we finalise their design (add name, flag, race number, sponsor logos etc.) the final 3D renderings will be sent to you. You can provide a custom quote for painting for your client.
Pricing: get a 20% commission from the 3D & fine tuning service
We do 3D renderings & fine tunings (up to 5 revisions) for  €77 + VAT. Your client will pay this fee to you. You keep the VAT and also 20% of the rest. You are required to forward the 80% to us before we get going with the 3D visualisation.
Module #1 addon setup fee on your site: FREE
Add exclusive designs to your site: open a Premium Database, and offer "buy out" option
The database with 20 designs is a shared database
The base database with the 20 editable designs is shared by everyone, who is a subscriber of the Online Helmet Designer service. (The same 20 designs are offered.)
Your clients will be able to edit the selected design, but they can not "buy it out" (acquire) from the database, others can access, edit, paint it as well.
Exclusive designs, buy out option
We are offering our designing services to you: let's set up a second, Premium Database on your site and fill it with designs we do ONLY and EXCLUSIVELY for your website and for the use of your own clients.
This provides the opportunity for them (and you) to acquire their choosen design – so it will be removed from the database. This way your clients can be sure that their design will be 100% unique.
And why is it good for you?
– You can set a Membership Plan price for your clients to get access to Premium Database,
– You can set a price for the "buy out" option
Later, as the exlcusive designs are running out, you can request new designs from us and keep your Premium Database fresh.
Don't forget: 100% of the income you make on your site is YOURS! No commission!
Pricing
You can order exlcusive designs in packages: 10-20-30 designs included in once package.
Pricing details are available on the "Pricing" page, found in the upper menu.
Module #2 addon setup fee:
FREE set up + Design package prices (10-20-30 designs)
See "Prices" page for pricing details.
Make your site GDPR-ready
EU-GDPR regulations
New rules in the EU require businesses to have a "Privacy Policy" and a "Terms and conditions document" uploaded to every company website – as well as informing visitors regarding Cookie policy.
If you want to prepare your own documents – no problem, we will upload them to your new site, free of charge of course.
Privacy Policy & Terms and Conditions
We did approach GDPR-competent lawyers and requested a template for the 2 required documents for the Online Helmet Designer service -in English language. We have the templates with us, ready to be filled up with your data – to be uploaded on your new website.
IMPORTANT NOTICE
Although we have not saved any money or time doing professional, EU-GDPR compliant documents, we DO NOT take any responsibility if your company receives an official check or penalty.
All we can do for you is to upload the two documents to your site, customised with your specific company profile, and services offered at your new website (Online Helmet Designer with any extra modules).
Module #3 addon setup fee:
€99 including: template + customisation + uploading to your site
And now check "How it works" and "Demo" pages to have a quick preview of your new site and the Online Designer as well!