browse – pick – customise – paint
Design your
own helmet Online
It is not about you waiting for the designs. It is about the designs waiting for you!
Design your own helmet online, in just 5 minutes!
Design your own helmet Online
In just 5 minutes, without drawing skills. Meet our Online Helmet Designer tool!
In short: to design your own custom race/biker helmet in no time.
We did the hard work for you: 25 FREE design templates are ready to be customised!
25 FREE templates are available – no registering, no sign up, 100% FREE! Just pick the one you like.
250.000+ variations available for EACH designs! Just have fun, play around with testing colors you wish!
Our professional painter is located in the UK and ready to paint your just created helmet design on a real helmet!
This is how our Online Helmet Designer looks in action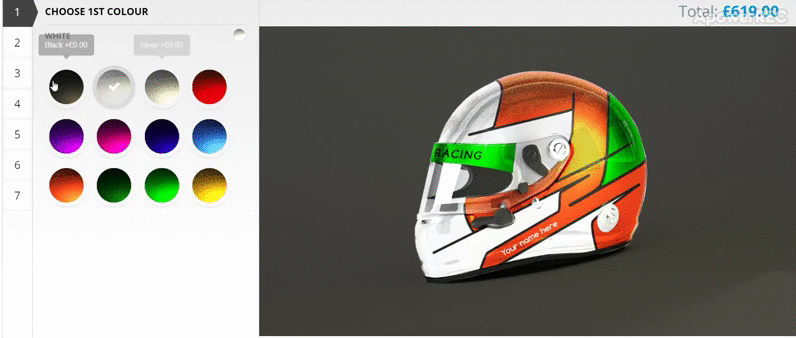 Huuuge variety to design your own helmet online
different variations for each designs
total variations count on the website
What if you could design your own helmet online, in just 5 minutes?
25 helmet design templates available
Access 25 FREE templates right now!
Quick & easy to use
Pick a template – configure colors & effects – request a quote for paintwork – if accepted, we paint it and you're done!
Professional UK based paintwork
If you accept the quote, just sit back and in 4-6 weeks you'll receive your custom painted helmet!
250.000+ variations per each design
You will surely find your perfect combination!
No drawing skills needed!
Just pick and match colors, effects
Reserve design ONLY for yourself
Option to reserve your design, 110% uniqueness guaranteed
Choose one or move on to the second & third helmet design packages.
ALL FOR FREE!
The only paid service on this website is the reserving option: you can buy a design ONLY for yourself, so it will be removed from the site and others will not be able to see it.
We all know that designing is a major part of creating a custom helmet, and without creative ideas or drawing skills it's tough to come up with your dream design.
But finding your ideal designer who is on the same page, skilled, patient and not so expensive isn't easy either.
So you're ideas stuck in your head 🙁
And then the idea was born!! 
Why don't we offer the opportunity to design your own helmet?
It's fun, and you can come up with millions of variations. Let us know if you find a designer who presents you 20+ templates with millions of colour variations – without telling him a word about your ideas!
Detailed features of the online helmet designer
Visual customiser, no drawing skills needed!
You've lost when it comes to drawing sketches? Don't worry for a secon. We did the hard work for you – all templates are professionally drawn by helmet artists, you just need some clicks to customise colors, effects, visor stickers!
250.000 variations & Buy out option
Are you afraid that others can have the same design? Firstly, each template has more than 250.000 color variations. So chances are pretty low that others end up with the same result. Secondly, you can reserve (buy out) a design you like, so we'll remove it from the site!
Huge database of designs
When working with a designer, usually you get 1 or 2 design version(s). Don't trust luck if you will like it – in our Online Helmet Designer website, you can get up to 25 designs!
Real time changes
Forget waiting for hours or even days until your designer creates a new sketch for you. Our motto is: "It's not about you waiting for the designs. It's about the designs waiting for you!"
Professional UK based paintwork
We've teamed up with one of UK's best painter, who can't wait to get started with the design you design! Prices on the site already contain the price of the base helmet as well as the painting costs! So you have an idea of everything, immediately!
Quick and easy process
1) Browse templates 2) Pick a design you like 3) Customise colors and effects 4) Request a quote with our online form 5) If you like and accept the quote, we'll paint your helmet and that's it! Can't be easier and quicker to have a custom helmet!
GOT QUESTIONS? 
Say Hello!
Anything to ask or anything to share? We would be happy to hear from you!